News
Embracing Joy: Meaningful Birthday Gifts for Loved Ones
by First Page Digital Singapore on Oct 24, 2023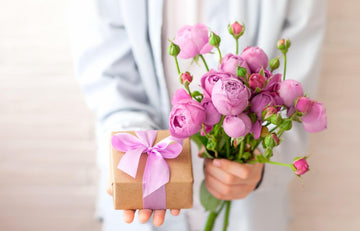 Birthdays mark not just the passage of time but also the growth we experience and the cherished memories we accumulate. This day is an excellent opportunity to show our loved ones how much they mean to us. However, when the occasion is right around the corner, many of us get stuck wondering what could be the best way to celebrate. One excellent approach is to give birthday gifts that not only bring a smile to the face but also leave a lasting impression. In this blog post, we at Summer's Winter Florist will guide you through selecting meaningful gifts and establishing heartfelt traditions. We will also introduce you to the birthday flowers for each month so that you can make your gifts even more personalised.
Meaningful Birthday Gifts
The search for birthday gifts is not just about material value but the sentiment and thought that comes with it. When looking for birthday gifts for your best friend or a family member, consider their hobbies, interests, and needs. Here are some examples:
For an avid reader:

 

If they are an avid reader, a thoughtfully chosen collection of novels by their favourite author can delight them. Adding a high-quality bookmark or a bookshelf organiser can make the birthday gift even more complete.
For cooking enthusiasts:

 

If the birthday person loves cooking, consider gifts that complement their culinary skills. A set of gourmet spices can spice up their kitchen adventures. High-end kitchen gadgets can also make for exciting gifts that they'll use and appreciate.
For fitness fanatics:

 

For those who prioritise health and wellness, a quality yoga mat or a set of wireless earbuds for workouts can be excellent choices. A subscription to a reputable fitness app could also keep them engaged and motivated.
For tech-savvy individuals:

 

If they are into technology, the latest gadgets or accessories can be big hits. Smart home devices or portable chargers can also make their lives easier and more convenient.
For Artistic Souls:

 

For those who love to create, high-quality art supplies as the birthday gift can be great. A sketchbook or a canvas set can provide them with the tools to express themselves. A subscription to a virtual art class can offer both inspiration and skill development.
Birthday Flowers: A Timeless Gesture
Flowers have long been a classic choice for birthday gifts, offering more than just visual appeal; they convey emotions and sentiments that words may not fully capture. To make your "Happy Birthday" wishes extra special, choosing a bouquet that aligns with the birthday month adds an extra layer of thoughtfulness. At Summer's Winter Florist, we provide a meticulously curated selection of fresh flower bouquets designed to capture the essence and sentiment specific to every season, all available to be conveniently delivered to your desired location.
Here are the birth flowers for all 12 months of the year:
1. January: Carnation
Signifying love and fascination, a carnation flower bouquet is a wonderful way to start someone's year. The flower comes in different colours, each representing a unique message—red for love, white for luck, and pink for gratitude.
2. February: Violet
Violets symbolise loyalty and faithfulness, making them the ideal birthday gift for February celebrants. These lovely purple flowers can brighten any room and uplift spirits.
3. March: Daffodils
Known for their bright yellow hues, daffodils stand for new beginnings and are perfect for those born in March. They symbolise rebirth and new beginnings.
4. April: Daisy
Daisies are a symbol of innocence and pureness, ideal for those born in the month of April. Their white petals and yellow centre offer a sense of youthful joy.
5. May: Lily of the Valley
These small, white bell-shaped flowers represent sweetness and humility. Lily of the Valley is the perfect birthday flower for someone born in May.
6. June: Roses
Roses, symbolising love and beauty, are the perfect choice for June birthdays. If you are looking for rose bouquets in Singapore, we have a variety of bouquets available in various colours, each hue carries its unique message—red for love, yellow for friendship, and white for purity.
7. July: Water Lily
Water Lilies symbolise purity and enlightenment, capturing the essence of July-born individuals perfectly. These flowers provide a sense of calm and grace, making them an excellent choice for those celebrating birthdays in July.
8. August: Gladiolus
Known for their tall, striking appearance, gladiolus flowers represent strength and moral integrity. They are an excellent choice for those with August birthdays.
9. September: Morning Glory
Morning Glory flowers are known for their vibrant colours and trumpet-like shape, signifying affection and spontaneity. They are a perfect match for the free spirits born in September.
10. October: Marigold
Marigolds are vibrant orange flowers that symbolise warmth and grace. They make an excellent choice for October birthdays, radiating positivity and charm.
11. November: Chrysanthemum
Commonly known as mums, these flowers signify joy and happiness. Chrysanthemums are perfect for November birthdays, offering a range of colours from white and yellow to deep reds and purples.
12. December: Holly
Holly is synonymous with goodwill and celebration, making it a good gift for those who have their birthdays in December. Known for its evergreen leaves and bright red berries, Holly encapsulates the joy and festivity of the season.
Make Every Birthday Gift Memorable With Summer's Winter Florist
Birthdays are monumental milestones, filled with love, growth, and memories. Selecting the perfect meaningful gift and complementing it with the ideal flower for the celebrant's birth month can make this special day even more memorable. Whether you need last-minute birthday gifts or want to plan ahead, Summer's Winter Florist is your go-to destination. With our online flower delivery in Singapore, we ensure that your sentiments are beautifully wrapped and promptly delivered, turning every birthday into a jubilant celebration full of joy and heartfelt moments. Thank you for letting us be a part of your special occasions.